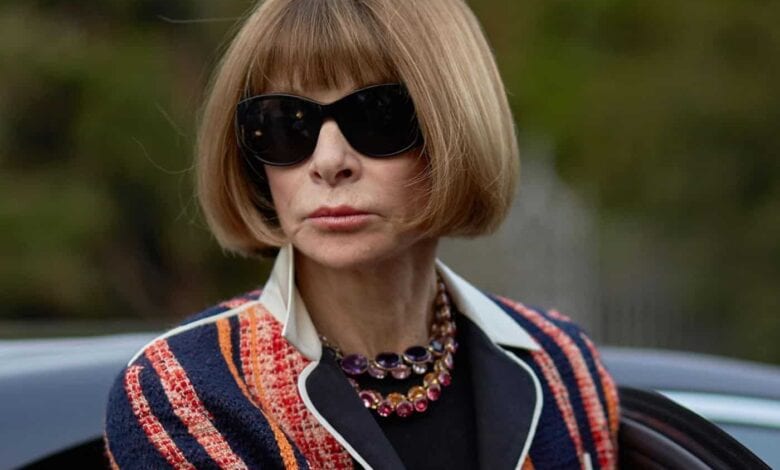 Anna Wintour with Andre Talley Leon at the Great Gatsby premiereIn the world of fashion everything changes except for Anna Wintour and her power. For two decades 63 year old Anna Wintour has reigned over the Vogue empire. She has made it the most profitable magazine of it's kind. She developed three new magazines Teen Vogue, Men's Vogue and Vogue Living. She works closely with Editor At Large Leon Talley. Anna has been in love with fashion all her life She was born in London England. Her father was the editor of a major newspaper. She dropped out of school and got her first job at 16. At age 25 she landed in America and eventually got her job at Vogue Magazine. She married, divorced and raised her 2 children on her own.
She cut her hair at age 16 and has kept her signature bob look since then. Meryl Streep portrayed the fashion icon in the 2006 movie Devil Wears Prada. She describes herself similar to the character as a very decisive and strong person. Vogue is known as fashion's bible. The magazine is where the elite and aspiring alike turn for thew style of the moment and the past. This quarter, the glossy publisher's ad sales had the highest percentage growth of any first quarter in the last five years. Vogue reaches 11.4 million readers in print and an average of 1.2 monthly visitors online. According to Anna being in Vogue has to mean something. Being on the cover will boost a model's career and bring notice to celebrities. She has been Vogue's editor-in-chief for 25 years. With her bold haircut and dark sunglasses she is considered the most powerful woman in fashion.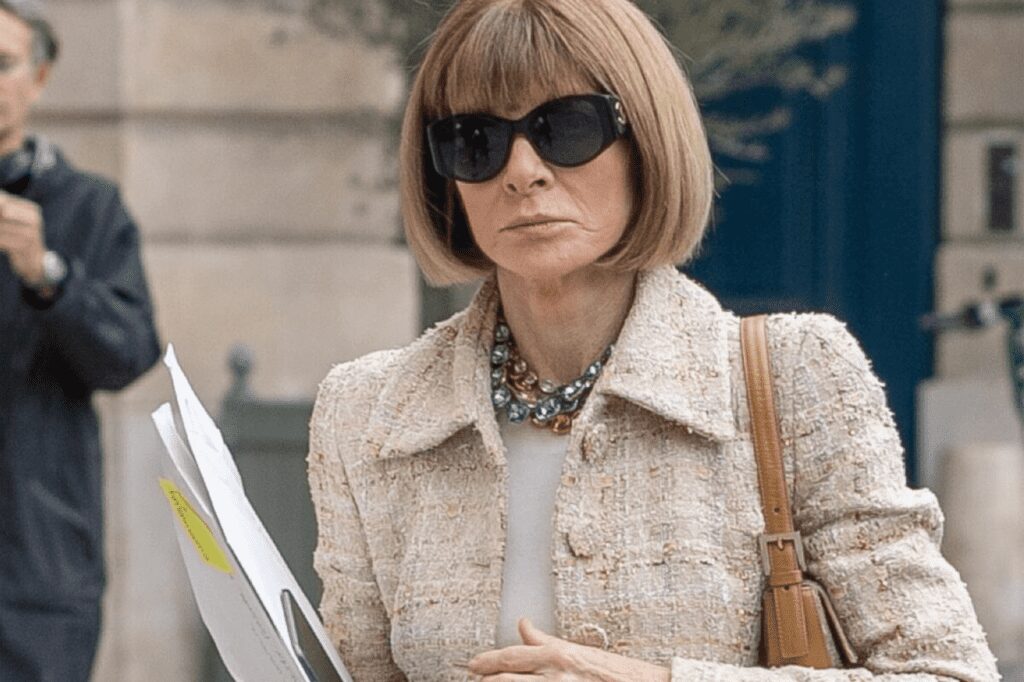 The British born mother of 2 took over the US magazine after running the UK version in 1988. She turned the fashion world upside down with her first cover. She used an image never intended for the cover featuring an Israeli model wearing jeans. The printers called her because they thought she had made a mistake. It had broke every prescribed rule till then. The women who work at Vogue have to be particularly fashionable and jeans are not allowed. She believe the mood of the country affects fashion. During the War in Iraq and Afghanistan the models walked down the runway in militant styled fashion and the American optimism changed following the election of Barack Obama. Designers created collections that were softer and more colorful reflecting a sense of hope and change.
She was recently promoted to artistic director for All Conde Nast publications. Outside the company, she has expanded her footprint through Fashion's Night Out, a multi-city retail promotion campaign, which is now on hiatus, and through her role as a prominent fundraiser for the Obama presidential campaigns. The Obama association fed rumors that she was in line for a foreign ambassadorship, most likely in the U.K., but ultimately she was passed over.