House
4 Types of Awnings Every Homeowner Should Know About (PLUS Their Benefits!)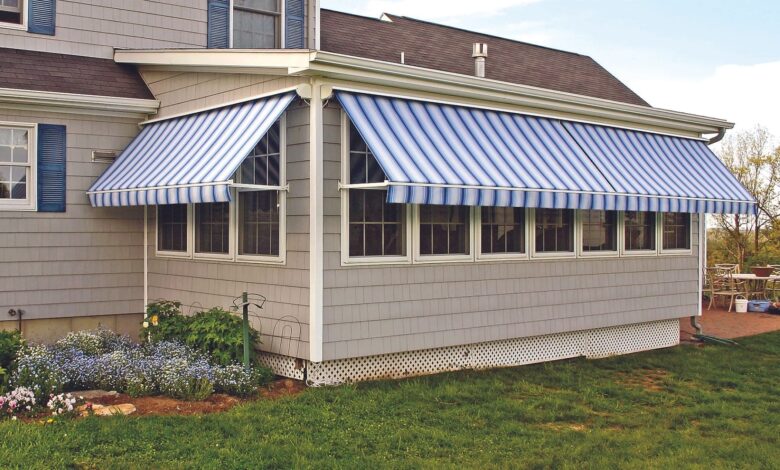 Are you looking for shading solutions for your home and amazed by the options available? Exterior coverings come in a range of styles and designs – outdoor, café, bistro or Ziptrak blinds are some examples if you want to enclose your patio or outside entertaining space.
Awnings are another option to consider but deciding which one is best for your home can get confusing! Will you decide on folding arm awnings Melbourne homeowners love to use on hot, sunny days? Or, do you prefer the pivot arm design? Keep reading to find out what types of awnings are available PLUS why they're a worthwhile investment.
4 Different Types of Awnings to Explore PLUS Benefits
1. Folding Arm Awnings
One of the most popular designs available on the market for homeowners and businesses such as bistros, are the folding arm awnings. These retractable awnings work especially well for residential environments, giving you the freedom to open or close them depending on the weather and time of the day.
They can be installed over doors or windows and make a wonderful addition to your outdoor entertainment space. Modern designs make use of technology for improved operations and they're stylish enough to be aesthetically appealing too!
The Benefits of Folding Arm Awnings
Durable: Made with hardwearing materials that are resistant to harsh weather conditions.
Protection: Provides excellent sun and rain protection.
Privacy: Varying mesh levels of 95, 99 and 100% allow for privacy from tall, neighbouring buildings.
Mould and mildew resistant: Mesh is used instead of canvas, making the awnings more resistant to mould and mildew buildup under damp conditions.
Better temperature control: Sunlight is deflected by the awnings, making it easier to keep your interior rooms cooler during the hot summer months.
Easy operations: The awnings can be motorised for easy operation, although the manual method is equally smooth and convenient.
2. Pivot Arm Awnings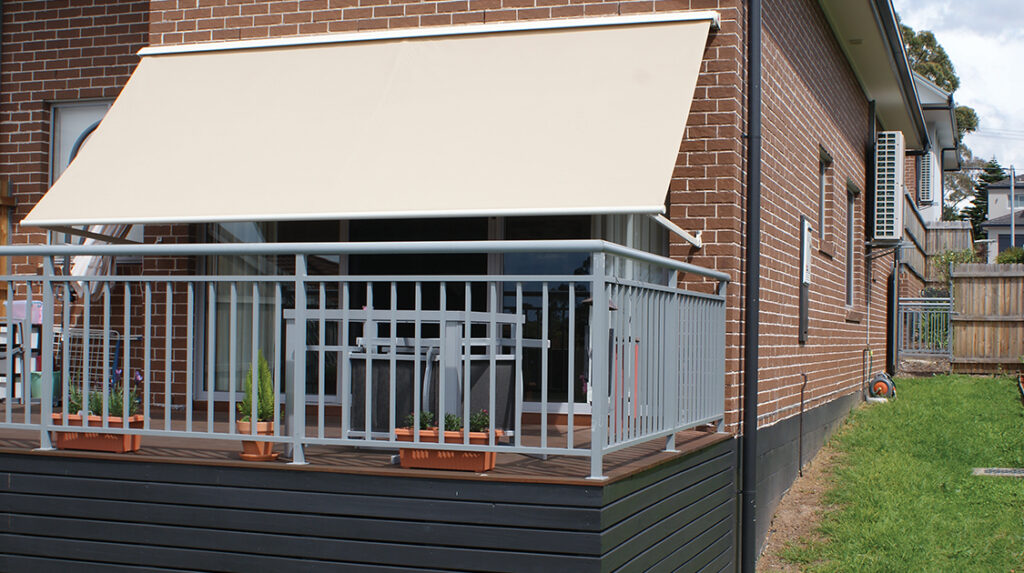 Pivot arm awnings are exterior coverings for windows that are exposed to bright sunlight throughout the day. When you close them fully or halfway, they provide privacy as well. Pivot arms are used to direct the blind away from the window and can be maneuvered to lower the covering vertically down the window.
These versatile window shading solutions are perfect for small balconies or locations that face directly onto the street or pavement. This makes them a favourite pick for storefronts where retailers have to block out glare and harsh UV rays to protect the contents indoors. Apartment owners often use pivot arm awnings on their balconies or ground-floor windows.
The Benefits of Pivot Arm Awnings
Optional operations: You can choose between motorised operations for added convenience or the crank handle option for affordability.
Stylish: Boost your kerb appeal with aesthetically pleasing designs.
Light control: Different mesh levels allow you to decide how much light filtering you want from your awnings. You can also choose whether to close the blind fully, leave it halfway or open it all the way.
Protection for interior furnishings: Your indoor furniture and flooring will be protected from harsh UV rays and sun-fade.
3. Fixed Guide Awnings
Fixed guide awnings are another window shading solution for those hard-to-reach spots. The exterior covering runs up and down stainless steel guides and can be motorised or operated with a manual crank handle. Fixed guide awnings are popular designs for upper-storey windows that need extra protection from sun glare.
Pitched at the bottom of the guides, the awnings offer pitches of between 50mm and 300mm. Made with varying levels of blockout mesh, the fabric provides you and other occupants sufficient shading and privacy throughout the year.
The Benefits of Fixed Guide Awnings
Motorised option: You can operate your awnings on hard-to-reach windows with the touch of a button.
Prevents wind damage: Closing the awnings protects your windows and interior from high winds.
Light and privacy control: You decide how much lighting and privacy you want by altering the height of the awning at any time.
4. Auto-Arm Awnings
Auto-arm awnings are similar to the fixed-arm design with a pitch of 150mm to 300mm. With a spring-loaded design, it's easy to pull the awnings down along the stainless steel guides. They can be fully closed, locked halfway or opened all the way.
You can lock the awnings at any position, keeping them in place even when the wind is blowing a gale! Pitching the awning away from the wall and window allows for a free flow of cool air into the home. When fully closed, you can leave your windows open even during high winds or rainy weather.
The Benefits of Auto-Arm Awnings
Energy efficient: Blocks out the hottest sun, keeping your home cool without relying on costly HVACs.
Easy to use: Anyone can operate these awnings safely and efficiently.
Final Tip
Picking the best awnings for your home is easy once you know what you need from them. Then simply speak to window covering experts to get the right solution for your property. Their professional installation will protect your investment for years to come.