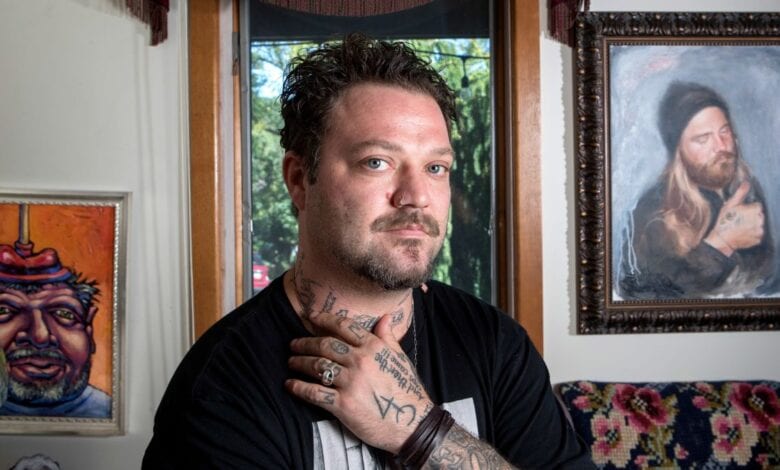 One of the biggest jackasses in the world is one of the richest men in the world. Brandon Cole known as Bam Margera by millions of fans began his career as a professional skateboarder. After several years on the wildly popular MTV Jackass the network granted him his own series Viva La Bam. Bam continued growing his career in the entertainment business writing and producing Independent films like Haggard and Minghags. His net worth in 2013 is $20 million.
His rebellious attitude and wild streak has been in him since he was a teenager. Bam Margera was born Brandon Cole in West Chester Pennsylvania. His grandfather gave him the nickname Bam because he had a habit of running into walls as a kid. Bam put his energy into sports as teenager. He and his friends would film themselves skateboarding and doing stunts around the neighborhood. The videos were garnered attention television producer and director Jeff Tremaine who asked Bam to join the series he was developing Jackass.
Jackass ran on MTV for three seasons but it's popularity kept it on the air until 2012. The show spun off three feature films. The first opened in the US at number 1 grossing $22 million in the first weekend with a $5 million budget. The success of the series and it's cast members lead to Bam Margera getting his own series Viva La Bam which ran for five seasons. He also appeared on Nitro Circus with his friend Travis Pastrana of CKY.
Bam Margera's fan base made him a marketers dream garnering endorsements from Speed Metal Bearings, Adio Footwear, and Fairman's Skateshop. In 2004 he added radio DJ to his list of credits. Margera began a weekly Sirius Satellite Radio show on Sirius channel 28 Faction on November 24, 2004 called Radio Bam. Margera has been animated as a character in pro-skateboarder Tony Hawk's video games Pro Skaters 3 and 4, Underground and Underground 2, American Wasteland, Project 8 and Proving Ground.
He recently wed Nicole Boyd in Iceland.