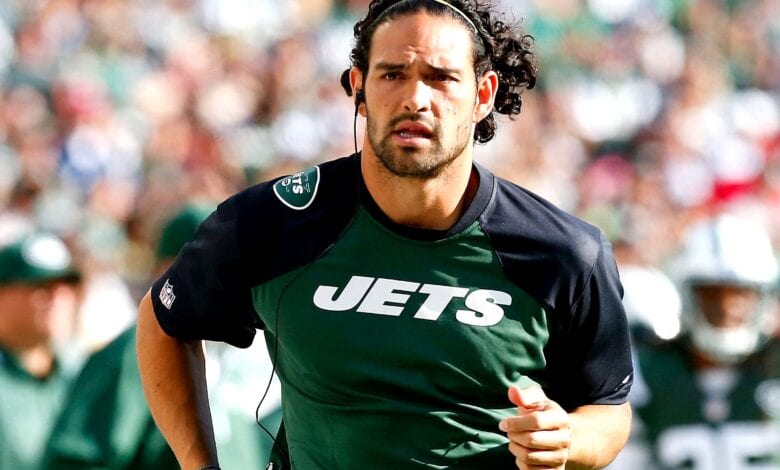 In 2009 Mark Sanchez became a first round draft pick, 5th overall signing a $50.5 million contract with the New York Jets for 5 years. In 2012 he extended the contract for 3 years earning an additional $40.5 million overall. His salary in 2013 is $17.6 million including a $4 million bonus. Sanchez may not be one of the greatest in the NFL but he is certainly one of the highest paid. He ranked #38 in Forbes annual highest paid athletes list earning $23.2 million including $1 million in endorsements. The 26 year old is rolling in dough despite harsh criticism from sports analyst and fans who went in on his mediocre 2012 performance. But with a net worth of $50 million in 2013.
Birth Name: Mark Travis John Sanchez
Birthday: November 11, 1986
Birthplace: Long Beach, California
College: USC
Draft: 2009/ Round 1/ Pick 5
Mark Sanchez was born in Long Beach California. Mark was raised in Orange County by his father Nick Sr after his parents divorced when he was 6 years old. He began playing football at home in the eighth grade with at home training from his father who convinced him to be a quarterback. When he attended Santa Margarita Catholic high school he joined the football team. The school has an exceptional alum including Kristen Cavalliri, Brian Finneran and Klay Thompson. But it wasn't until he transferred to Mission Viejo where he received exceptional training and tutelage under head coach. Carson Palmer. He earned national recognition as he was named football player of the year by several major college recruiting services and was considered the top quarterback in the nation upon the conclusion of his high school football career in 2005. In 2004 he wrote his letter of intent to the University of Southern California.
He had a successful college career but also faced a series of hurdles and legal troubles. In April 2006, Sanchez was arrested after a female USC student accused him of sexual assault. He was released from jail the following day and suspended. On June 3, 2006, the Los Angeles County District Attorney's office announced no charges would be filed, and Sanchez was reinstated. On January 15, Sanchez announced his plans to forgo his final year of college eligibility and enter the 2009 NFL Draft, although he continued as a USC student and completed work on his degree in the spring of 2009 while preparing for the draft.