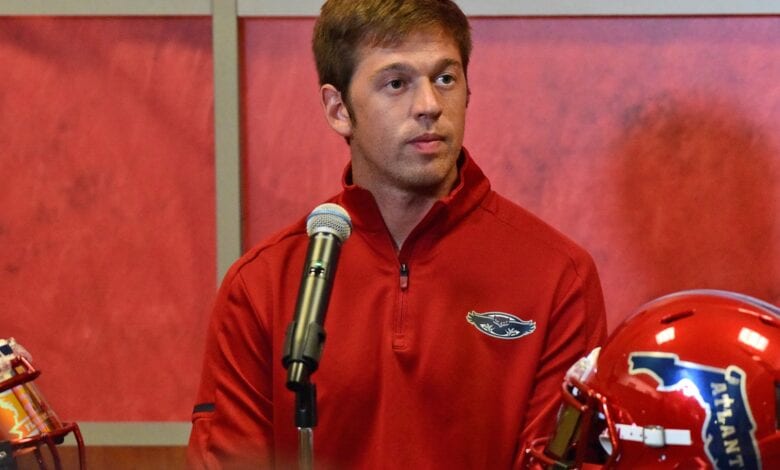 Birthday: 1993
Birthplace: Trenton, New Jersey
Spouse: Jennifer Weis
Occupation: Offensive Coordinator
Siblings: Hannah
Parents: Charlie and Maura Weis
1. According to SB Nation Charlie Weis Jr was hired by Lane Kiffin as FAU's new Offensive Coordinator. The now 24 year old worked with Kiffin at Alabama on Nick Saban's staff.  Lane Kiffin's dad was a coach and some suggest because of that he is a strong believer in sons of coaches. FAU's former offensive coordinator Kendal Briles left taking an offensive coordinator role at Houston last week. This will hopefully be the right change for the school which had a 9-27 record under Charlie Partridge. The former head coach was fired November 27th in the middle of the season.
2. Prior Jobs before becoming the youngest OC at Florida Atlantic University. 24 year old Weis was hired as the team's tight end coach in December 2017. He was an offensive analyst at Alabama for two years prior to joining FAU Owl's in 2017.
3.  At 24 years old his net worth was only $50,000 before accepting the job. His salary is estimated at $500,000.  Lane Kiffin took a pay cut to become FAU's head coach. He was earning $1.4 million as Nick Saban's assistant and now is receiving $1 million as head coach of FAU.
4. Charlie Weis Jr is married to his high school sweetheart Jennifer Weis. The two married July 23, 2016.
5.  Weis is the son of legendary coach Charlie Weis.  For five years, from 2005 through 2009, Weis was the head football coach for the Notre Dame Fighting Irish. He has also served as an offensive coordinator in the National Football League, for the New York Jets, New England Patriots, and Kansas City Chiefs. Along with his mother Maura, his parents started a foundation called the Hannah and Friends foundation which is dedicated to kids with autism. Weis' Jr's sister Hannah is what inspired the foundation, she has autism.