Tips
Baldr S Weapon Mounted Compact Light for Firearms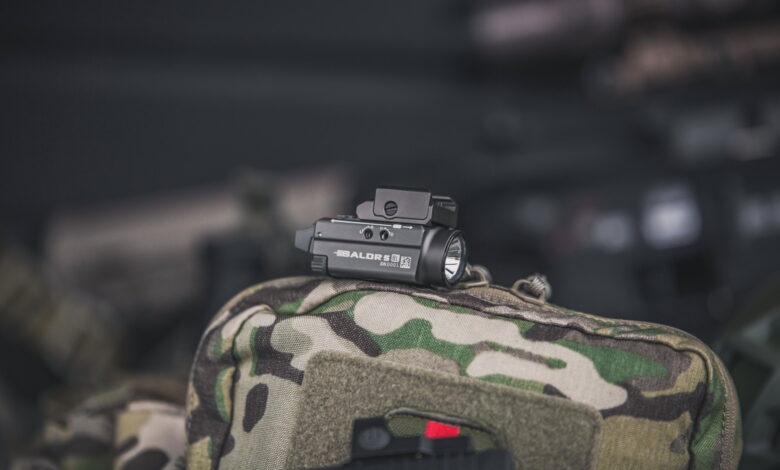 The Baldr S stands as a formidable contender among the vast array of weapon-mounted lights available on the market today. This compact yet robust device combines the benefits of a high-output white light and a versatile green beam, making it a highly sought-after tool for tactical enthusiasts and professionals alike.
Delivering an astonishing white light output of up to 800 lumens, the Baldr S ensures exceptional visibility in even the darkest of environments. Additionally, it features a low 100-lumen setting, providing users with a suitable illumination option for more subtle situations.
What sets the Baldr S apart from its competitors is its ability to deliver foolproof accuracy with its adjustable green beam. By zeroing the beam to your specific setup, you can achieve unmatched precision with this weapon-mounted light, ensuring that every shot counts. The convenience of the setting switch allows for seamless transitions between the white light, green beam, and combined settings, all without the need to turn off the device.
Equipped with a 3.7V 380mAh lithium polymer battery, the Baldr S offers an impressive maximum runtime of up to 140 minutes, providing users with prolonged usage in the field. Its patented sliding rail mount further enhances versatility, allowing for easy adjustment of the light to your desired position. The package includes two types of rail adapters, designed to fit both Glock and Picatinny rails, ensuring compatibility with a wide range of firearms.
Enhanced Illumination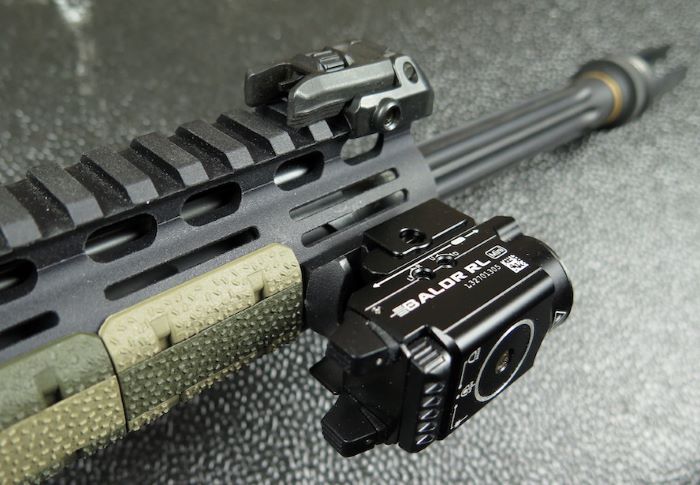 The Baldr S Weapon Mounted Light takes lighting capabilities to new heights with its remarkable features. Boasting a maximum white light output of 800 lumens, this innovative device offers an impressive 33% more light than its predecessor, the Baldr Mini. The increased brightness ensures enhanced visibility in even the most challenging environments, providing users with a significant advantage.
Recognizing the need for versatility, the Baldr S introduces a new 100-lumen low mode specifically designed for indoor use. This lower-intensity setting allows for precise illumination in close-quarters situations, reducing the risk of blinding reflections or excessive light spillage. Whether maneuvering through confined spaces or conducting room searches, the Baldr S ensures optimal visibility without compromising tactical efficiency.
With its exceptional light output and the addition of a dedicated low mode, the Baldr S empowers users with unparalleled control over their lighting options. Experience the next level of illumination capabilities and unlock new possibilities with the Baldr S Weapon Mounted Light.
Battery Life
The Baldr S Weapon Mounted Light is equipped with a built-in 3.7V 380mAh lithium polymer battery, providing a reliable and long-lasting power source. Designed to meet the demands of extended missions or prolonged usage, this battery ensures a maximum runtime of 140 minutes when the light is set to the efficient 100-lumen mode.
The lithium polymer technology employed in the Baldr S battery delivers exceptional energy density, allowing for a compact design without compromising on performance. This ensures that users can rely on the light for extended periods, without the need for frequent recharging or battery replacements.
With a runtime of 140 minutes at 100 lumens, the Baldr S proves itself a dependable companion in low-light scenarios. Whether engaging in surveillance operations, conducting search and rescue missions, or simply needing sustained illumination for an extended duration, the Baldr S is up to the task.
Mode Setting Switch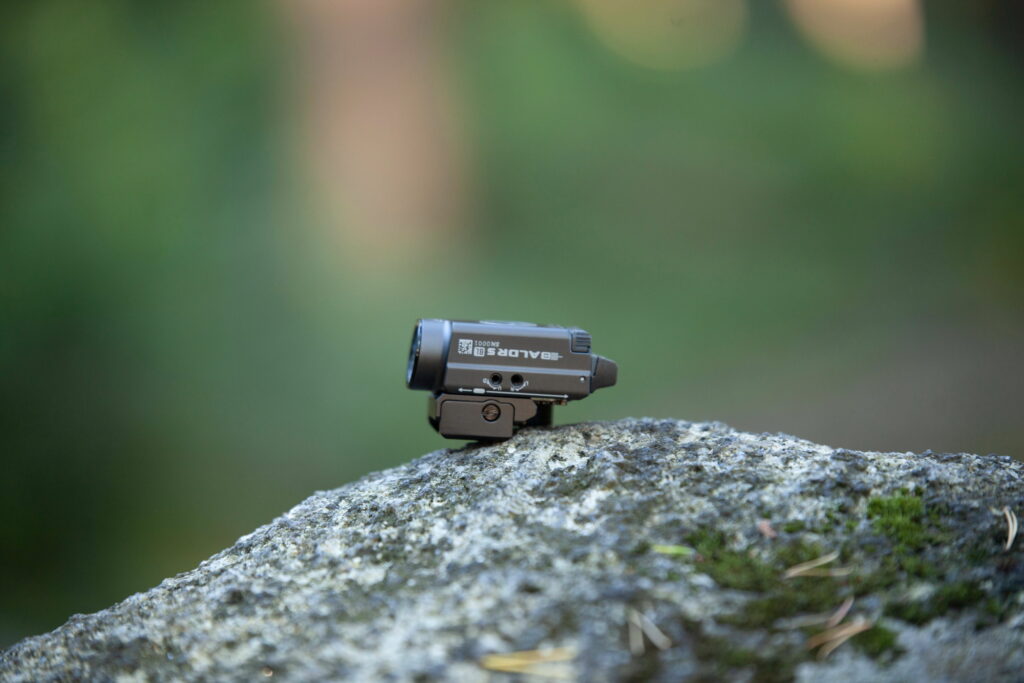 The Baldr S Weapon Mounted Light takes adaptability to a new level with its innovative mode setting switch. This feature provides users with the flexibility to choose between three distinct lighting options: white light only, green beam only, or a combined mode featuring both.
By simply toggling the mode setting switch, users can effortlessly switch between the different lighting configurations without the need to turn off the device. This seamless transition allows for quick adjustments to match the specific requirements of any given situation.
The white light mode offers powerful and broad illumination, providing excellent visibility and target acquisition in various environments. Whether navigating in low-light conditions or engaging in tactical operations, the white light mode ensures a clear sight picture and situational awareness.
For scenarios that demand the best of both worlds, the combined mode allows users to harness the advantages of both the white light and green beam simultaneously. This comprehensive lighting option offers the versatility to adapt to changing circumstances and optimize performance in dynamic situations.
Patented Sliding Rail Mount
The Baldr S Weapon Mounted Light revolutionizes ease of use and customization with its patented sliding rail mount. This innovative feature allows users to effortlessly adjust the light to achieve a custom fit on their specific rail length. Whether you have a compact pistol or a full-sized rifle, the Baldr S can be seamlessly tailored to your firearm's unique dimensions.
With the sliding rail mount, you can easily position the light exactly where you need it, optimizing visibility and minimizing any obstructions that could hinder your shooting or maneuvering. This level of adaptability ensures that the Baldr S becomes an integral part of your weapon setup, enhancing your overall shooting experience.
Additionally, the Baldr S includes a swing arm mechanism, further streamlining the installation and release process. With the swing arm, you can attach or detach the light quickly and efficiently, saving you valuable time and effort. This feature proves invaluable in situations where immediate activation or removal of the light is crucial, allowing you to respond rapidly to changing circumstances.
Compatibility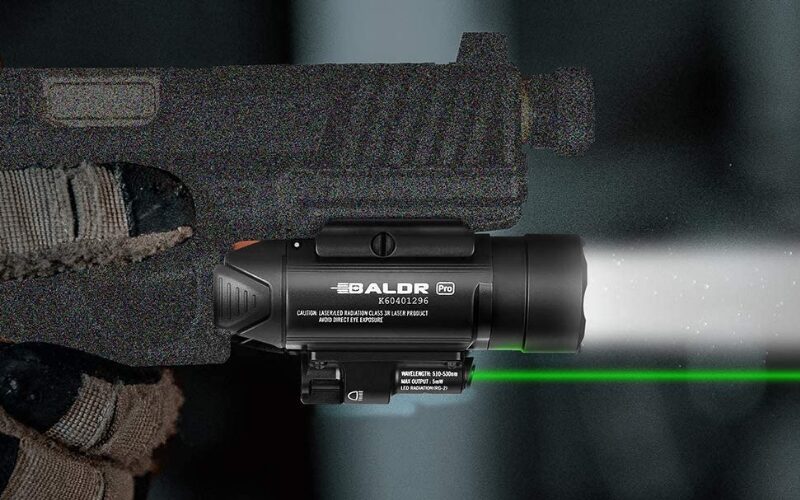 The Baldr S Weapon Mounted Light sets itself apart by offering exceptional compatibility with various firearm platforms. Included as standard accessories are rail inserts specifically designed to fit both Glock and Picatinny-sized rails, ensuring seamless integration with a wide range of firearms.
The Glock rail inserts are tailored to the dimensions of Glock pistols, guaranteeing a secure and precise fit. This compatibility allows Glock users to enhance their firearms with the Baldr S without the need for additional adapters or modifications.
Dual Ambidextrous Switches
The Baldr S Weapon Mounted Light redefines ease of operation and accessibility with its dual ambidextrous switches. This thoughtful design feature enables smooth activation of the light, whether you're left-handed or right-handed, allowing for seamless momentary-on or constant-on activation with either hand.
The ambidextrous switches are strategically positioned to ensure comfortable and intuitive access, regardless of your shooting grip or hand dominance. This versatility eliminates any restrictions or limitations, empowering users to quickly and effortlessly engage the light as needed in high-pressure situations.
Conclusion
The Baldr S Weapon Mounted Light is a true powerhouse in the realm of illumination. With its exceptional output of 800 lumens, adjustable green beam, and versatile modes, it offers unrivaled visibility and precision. The built-in lithium polymer battery ensures extended runtime, while the patented sliding rail mount and ambidextrous switches enhance customization and ease of use.
Compatible with both Glock and Picatinny rails, it caters to a wide range of firearms. Whether for professional or personal defense, the Baldr S is the ultimate compact light source, providing reliability, adaptability, and unwavering performance in any situation.