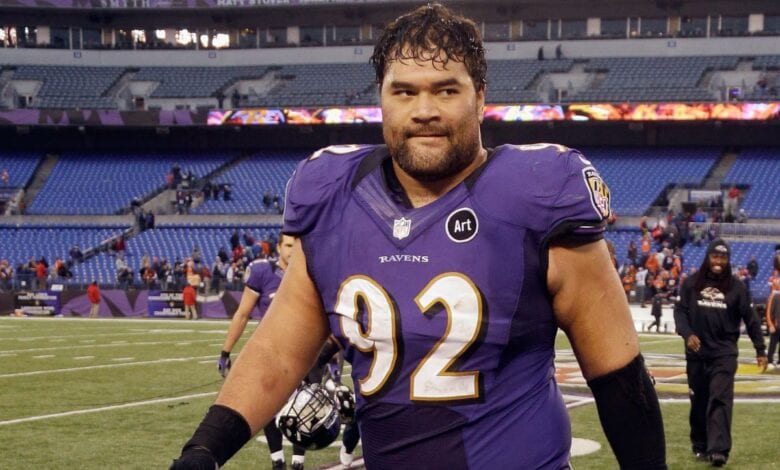 29 year old Nose Tackle Haloti Ngata is the second highest paid player for the NFL Baltimore Ravens. His salary reaches $11.5 million in 2013 just under linebacker Terrell Suggs. Ngata has been with the team his entire 8 year career. He proved his worth during the Super Bowl XLVII when the team won their first championship. His five year contract is worth $48 million with $28 million guaranteed and a $10 million sign on bonus he received in 2009. Haloti net worth in 2013 $20 million.
Birth Name: Etuini Haloti Ngata
Birthday: January 21, 1984
Birthplace: Inglewood, California
College: Oregon
Net Worth:$20 million
Position: Tackle
Number: 92
Draft: 2006
Haloti Ngata was born in Inglewood California but moved to Salt Lake City Utah with his family. He is of Tongan ancestry and grew up in a large family with 8 siblings. His family was also deeply religous being raised as a devout morman. Since he was a teenager his athleticism and sportsmanship was recognized by several national publications and sports analyst. Ngata was named the 2001 Utah Gatorade Player of the Year and a first-team USA Today All-USA selection. He played in the 2002 U.S. Army All-American Bowl. Ngata was listed as a five-star recruit and the No. 2 overall prospect in the nation by Rivals.com. Ngata also played rugby in high school, and helped lead the Highland Rugby Club to the National Rugby Championship.
He attended Oregon University of writing a letter of intent to the school. He displayed his talents continuing to earn praise from several sports critics. He was recognized as the Pac-10 Defensive Player of the Year and a consensus first-team All-American, Oregon's first in 43 years. Ngata didn't graduate from college due to his mother's illness. She died from kidney failure in 2006 the same year he was drafted to the Baltimore Ravens. On July 28th he signed an awesome contract. A 5-year contract worth up to $14 million with the Baltimore Ravens. In his rookie season, he started in all 16 games and finished the campaign with 31 tackles, one sack and an interception. The following season, he made 63 tackles and three sacks. Ngata had two interceptions in 2008.