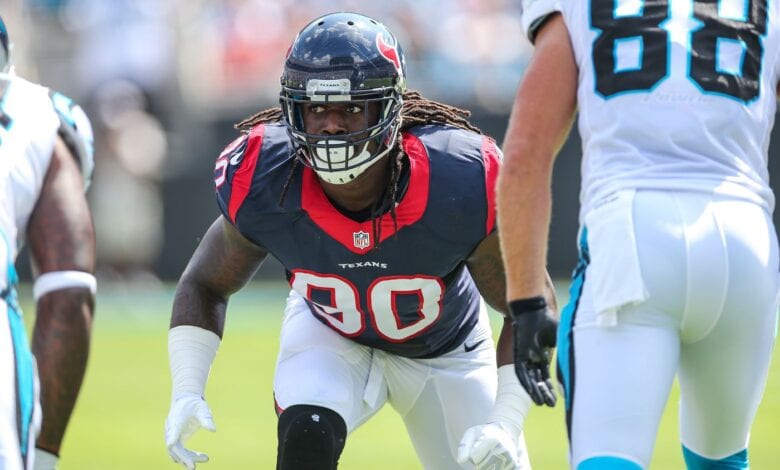 Birthday: February 14, 1993
Birthplace: Rock Hill, South Carolina
Team: Houston Texans
Salary: $420,000 in 2014
Contract Worth: $22 million
From the small town of Rock Hill South Carolina Jadeveon Clowney never imagined he would grow up to be the number 1 draft pick earning $22 million in guaranteed money at the age of 21 years old. His mother was a Frito-Lay technician barely making $30,000 a year as a single mother. His father servved 12 years in prison for robbing a check cashing business. Just weeks after beating out the over hyped Johnny Manziel for the first draft pick in the 2014 NFL Draft Jadeveon Clowney makes headlines again for signing a massive contract, the biggest in his draft class. The Houston Texans trust the linebacker to help the team recover from a 2-14 season. With high hopes Clowney was rewarded handsomely with a $14.5 million signing bonus. So the pressure is definitely on for the league's newest hype.
Jadeveon weighed 200 pounds and stood 6'3 by his sophomore year in college. With the build of a football player already genetic Clowney took it to the field starting in South Pointe High School's varsity team. His coaches were impressed with his destructive nature on the field and considered him one of the school's most promising stars. As a junior USA Today honored him with High School Defensive Player of the Year. Before graduating high school he was a national star being chosen by the ESPN magazine for a feature story. He was regarded as one of the best players in his class.
He continued his athletic excellence at the University of South Carolina. As a freshman his notoriety was cemented with countless awards including SEC Freshman of the Year and First Team Freshman All American. Sports Illustrated, ESPN and numerous sports analyst projected Clowney a top 3 draft pick. Just before other's day Clowney walked across the stage at Radio City Music Hall after being the first draft picked called by NFL Commissioner Roger Goodell.