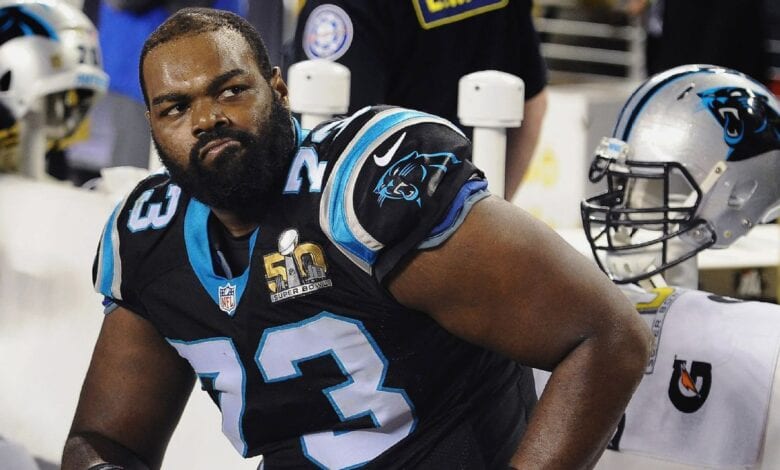 Baltimore Ravens Offensive Tackle Michael Oher was drafted in 2009 and signed a 5 year contract with the Baltimore Ravens worth $13 million. $7.8 million was guaranteed plus a $942,000 signing bonusIn 2013 his salary is In 2014 he will become an unrestricted free agent.
Birth Name: Michael Jerome Williams, Jr
Birthday: May 28th 1986
Birthplace: Memphis Tennessee
Position: offensive Tackle
Draft: NFL Draft 2009
College: University of Mississippi
Starting Offensive Tackle Michael Oher was born in a large family with 12 brothers and sisters but his family was just as dysfunctional as it gets. His mother abused drugs and alcohol and entered several rehab centers but never completed the treatment. Michael's father was no better influence he was in and out of prison for dealing drugs and a robbery and assault charge which kept him in jail for 8 years. He was killed in prison after making threats to another inmate who was a gang member. He died when Michael was 18. His entire life he was in foster care and went home to home staying with one family for no more than 6 months. It was an unfortunate upbringing but it fueled his motivation do better. But it was Leigh Anne and Sean Tuohy who helped him realize his athletic potential. A couple with a daughter and son attending Briarcrest, allowed Oher to live with them and eventually adopted him. His life and relationship with the Tuohys was the subject of the Academy Award nominated film the Blind Side.
He had an outstanding high school football career. In 2003 he was named Division II (2A) Lineman of the Year in 2003, and First Team Tennessee All-State. Scout.com rated Oher a five-star recruit and the No. 5 offensive lineman prospect in the country.