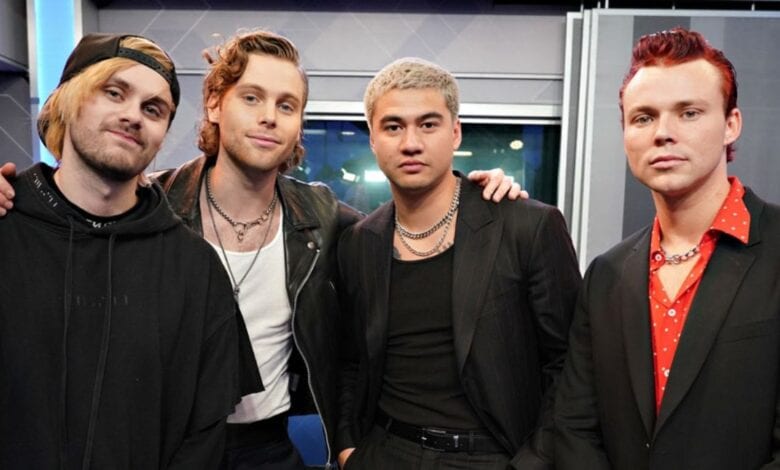 Michael Clifford Luke Hemmings Calum Hood Ashton Irwin Born July 16, 1996 November 20, 1995 January 25, 1996 July 7, 1994 Mother Karen Clifford Parents Liz and Luke Hemmings Mother Joy Hood Mother Anne Marie Irwin Ethnicity: English, German, Irish Australian Australian Australian
One of the fast rising stars in music are 4 imports from down under. 5 Seconds of Summer is the latest boy band to breakthrough state wide with a growing fan base that is obsessed with every move the guys make including what they put in their mouths. But the 4 teens have no problem with the obsessive fan base and have stated that the best part of being in 5 Seconds of Summer is meeting the fans.
The group has over 3 million twitter followers and have yet to release their debut album. Their twitter account gains over 24,000 new followers daily. But fans will soon no longer have to wait as 5SOS is dropping at the end of July.
With such a large following the album will certainly do well. It is reported the pre-sales have topped 75,000 copies so far which gives them a good chance of debuting at number 1 on Billboard 200. Their EP She Looks So Perfect peaked at number 2 o the Billboard 200 and the group also sold out their first headlining North American Tour in less than 5 minutes.
From first glance 5 Seconds of Summer look like your stereotypical boy band but the group is working hard to shake that perception. They write and perform their own music and are all classically trained and self taught musicians. Their approach to music gives listeners a fresh sound compared to their over processed and mediocre peers.
5 Seconds of Summer is certainly taking over the airwaves with their new single Good Girls. Several publications and media outlets have declared them the band to watch in 2014. At this early stage in their careers they have everything and more to take that top spot from reigning boy band One Direction. Will 5 Seconds of Summer be worth more? The group has already earned nearly $10 million collectively from concert ticket sales, music downloads, and their commission from products using their image.
It's hard to believe the just formed in 2011.
The band consist of Calum Hood, Michael Clifford, Luke Hemmings and Ashton Irwin.