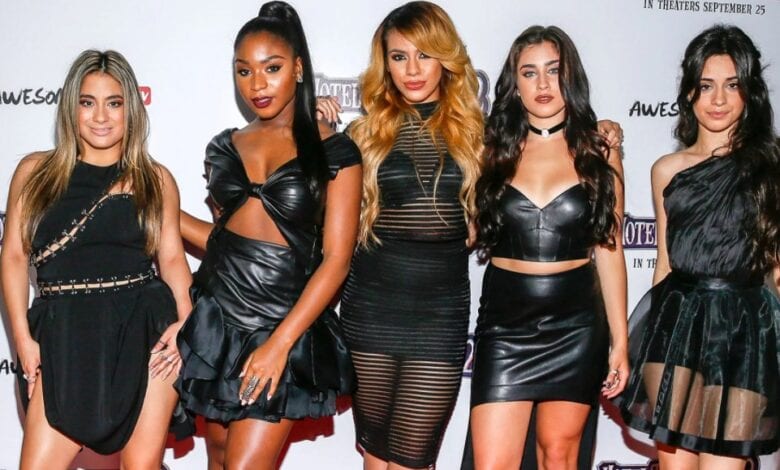 Group Members: Camilla Cabello, Normani Kordei, Ally Brooke Hernandanez, Dinah Jane Henson, Lauren Jauregui
Claim to Fame: X Factor and actual talent!!
Singles: Miss Movin, Me & My Girls, Better Together, Bo$$
Fifth Harmony is literally one of the most popular bands on social media. The group's fan base titled 'Harmonizers' have been ride or die for the five beautiful ladies since their humble beginnings on X Factor in 2012. Camilla, Ally Brooke, Dinah Jane, Normani and Lauren all auditioned for the Simon Cowell reality series as solo acts. Seeing them in all their fandom and popularity in 2014 it's hard to believe they were complete strangers. Each girl has their own style, personality and talent that helps the group relate to millions of girls and guys around the world. Simon has definitely won with this group and we think they will have far more longevity than his previous act One Direction.
In 2013 Fifth Harmony had minor success with their EP "Better Together" and their debut single 'Miss Movin On'. Now under the supervision of former judge LA Reid the girls are taking their music into a different direction. With heir new single "Boss" Fifth Harmony is looking for the success they deserve. They premiered the single at Kiss 108's Kiss Concert. Although they gave fans just a small snippet the single caused major stir on social media. The Harmonizers have been waiting for an official album and a single that matches their R&B style, and it looks like this is definitely it.
In just a few weeks Fifth Harmony will be returning to the Today Show to officially premiere the single following it's release on iTunes. Last year the girls became the show's most buzzed about guest on social media. And yes they out did One Direction prior to their 2013 return. The girls were the number 1 trending topic garnering nearly 78,000 tweets between 7am-noon Eastern Time.
These girls have relied on nothing more than talent to build their fan base unlike Bieber and One Direction who have been all over the media for drugs, arrests, and plain bulls**t these girls remain good role models for their fans. No a** shaking or bl*nt blowing is necessary to prevail among mediocre talent when you actually got talent like Fifth Harmony.
With so much success and popularity before their debut album it's no doubt Fifth Harmony has a chance of outdoing their predecessors One Direction. Oh and did we mention they can actually "SANG", which is one qualification pop stars don't need these days. #GO5H!!
One more thing when we tried to visit the iTunes page for the single "Boss" it was temporarily unavailable, is it possibly due to the amount of fans trying to download the single at once???!!!
Try and Pre-Order Now via iTunes!