On the heels of his overwhelmingly successful single Blurred Lines featuring Pharrell and T.I. Robin Thicke has returned to music full force. In 2012 he had a starring role on the breakout hit Real Husbands of Hollywood. The 36 year old R&B singer has spent over a decade behind the scenes writing songs for some of today's biggest artist. Mary J Blige, Jennifer Hudson, Christina Aguilera and even Lil Wayne have all had music written by Thicke. With a slue of hits for other artist Thicke began his own project in 2002.
A Beautiful World Robin's first album was originally titled Cherry Blue Skies. The album was promoted by the single When I Get You Alone which was a moderate hit internationally but had little appeal in the states. In 2005 he made a big decision that would help him evolve his career beyond the shadows of other artist. He signed with Pharrell's Star Trak label and dropped The Evolution of Robin Thicke. The album featured the ballad Lost Without You. In the music video his beautiful girlfriend Paula Patton played the leading lady.
Lost Without You received heavy radio airplay specifically on R&B radio stations who helped him become the first Caucasian Male to have a single atop Billboard Hip-Hop R&B chart since George Michael. The single helped The Evolution of Robin Thicke get mass attention and both the single and album were number 1 on Billboard 200 and Billboard Hot 100 simultaneously. Evolution sold over 1 million copies in the United States alone.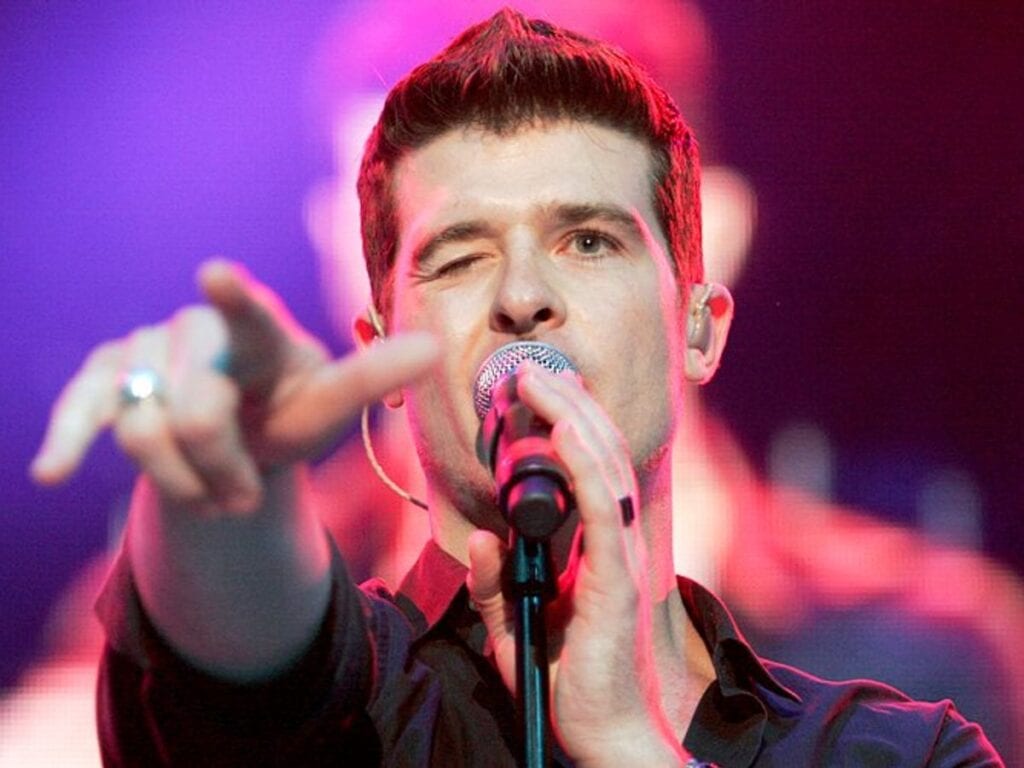 His third album Something Else was promoted with a co-headlining tour with Oscar and Grammy winning songstress Jennifer Hudson. Something Else featured the single Magic which helped the album debut at number 3 on Billboard 200. To date the record has sold 455,000 copies. His second number 1 single Sex Therapy dropped the following year with an accompanying album.
Robin Thicke Blurred Lines Success
Blurred Lines featuring T.I. and Pharrell was released in March 2013. The single has peaked at number one on the Billboard Hot R&B/Hip-Hop Songs chart, as well as topping the Billboard R&B Songs chart. It has also become Thicke's most successful song on the Billboard Hot 100. "Blurred Lines" peaked at number one in fourteen countries including the United Kingdom, Australia, Republic of Ireland, France, Germany, Austria, Italy, Luxembourg, Switzerland, Canada, New Zealand and the United States becoming Thicke's highest charting song in all of these countries.
"Blurred Lines" has sold 1 million copies in the United States since its release, becoming Thicke's first single to do so.