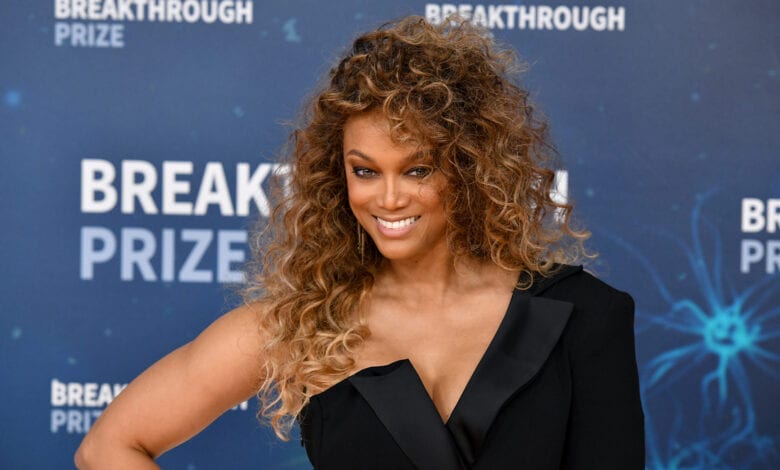 America's Next Top Model creator, producer and judge Tyra Banks has become an icon and role model to millions of girls around the world. With her years at the top of the fashion game as an international model Tyra gives girls and now guys the opportunity to land a deal with major modeling agencies in the long running Top Model series. The show dominated the airwaves during it's premiere season and since then has been introduced in over 47 countries. Tyra Banks also used her television experience and notoriety to host her own talk show for 5 seasons. The Tyra Banks Show featured a slue of issues and topics concerning young adults. Her guest included model rival Naomi Campbell, Rihanna, Beyonce, Bow Wow and many others. There was even an episode featuring Oprah Winfrey discussing the domestic abuse between Rihanna and Chris Brown. Tyra won a Daytime Emmy for Most Outstanding Talk Show Informative. Tyra Banks today is worth $100 million.
Tyra Banks began her modeling career at the tender age of 17. After doing local model in California for various department store catalogs she was flown to Paris to walk the runways of Gucci, YSL, Armani and over 30 other shows. After appearing on the cover of Sports Illustrated becoming the first African American woman to achieve the honor Tyra became a Victoria Secret Model. Her career shifted from high fashion because of her curvy development. She retired her angel wings in 2005. Following her modeling career Banks went on to develop America's Next Top Model. She has been featured in Time Magazine's 100 Mos Influential People list several times.
Adding yet another layer to the enterprise that is Tyra Banks, the former model turned television personality is taking to the startup game with an investment in a new social shopping platform. Ashton Kutcher, who has made a name for himself as a tech-centric venture investor through his own firm, A-Grade Investments, has also laid down cash.
Called The Hunt, Banks and Kutcher's latest venture helps people track down things they want to buy using Pinterest, Instagram, Tumblr or any website with a photo of a product.