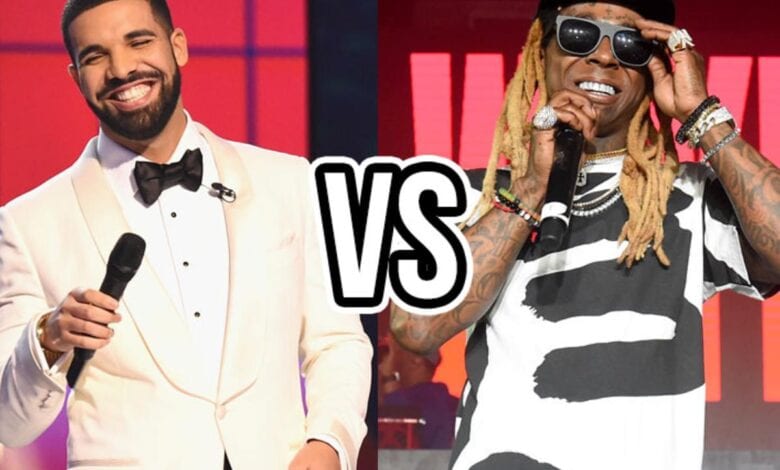 Drake vs Lil Wayne Who's Worth More and Making More in 2014?
Drake's Net Worth: $45 million
Lil Wayne's Net Worth: $150 million
Only on a Thursday would Drake and Lil Wayne make one of the biggest announcements on Social Media. The two most recognized voices in Hip Hop are going on tour this Summer in America but international fans have already started protesting for the rappers to take the tour internationally. Due to the strong social media buzz we decided to take a look at which is making more money. Although Lil Wayne has been killing the game for over a decade and sold more albums Drake's appeal has garnered him major major endorsement deals.
The Cash Money dynasty has reigned for over a decade in the hip hop world and has displayed no signs of passing the torch. Birdman and Lil Wayne have been at the center of building the dynasty over 10 years ago. Weezy started the Young Money branch of the label in 2007 originally signing Tyga and later getting hold of Nicki Minaj and Drake, the label's richest artist. Since Drake was given his introduction in 'Every Girl" his career has not slowed down.
In 2013 Drake made a statement that his goal was to make the Forbes list every year and that he has. Aubrey "Drake" Graham, pulled in an estimated $20.5 million last year. He earned $10 million in 2010 and $11 million in 2011 before nearly doubling that figure in 2013.
Billionaire and owner of Virgin, Richard Branson named an airplane after Drake before he even dropped his first album. WOW, it's really like that huh?! Since his debut "Thank Me Later" Drake has sold over 5 million albums and released 12 number 1 singles. If you want to book him for an appearance at your Bar mitzvah or sweet sixteen it's going to cost you a few BMW's. He reportedly earns $125,000 per performance, just under Beyonce who earns $300,000 for performances.
In 2013 expanding his celebrity Drake announced he was joining the Jordan Brand and releasing his own line of sneakers with the company as well as doing commercials and appearing on ads. Drake made a major move since the brand reports over $2 billion in revenue every year. Michael Jordan apparently gets paid $90 million from retail sales of Jordan. Just imagine what Drake might be earning from the deal.
He's also used his millions philanthropically. Drake offered to build a high school in Pennsylvania a recording studio.
Despite Drake's financial growth Lil Wayne has held the position of one of the wealthiest rappers for years. Click here for Weezy's financial standing!