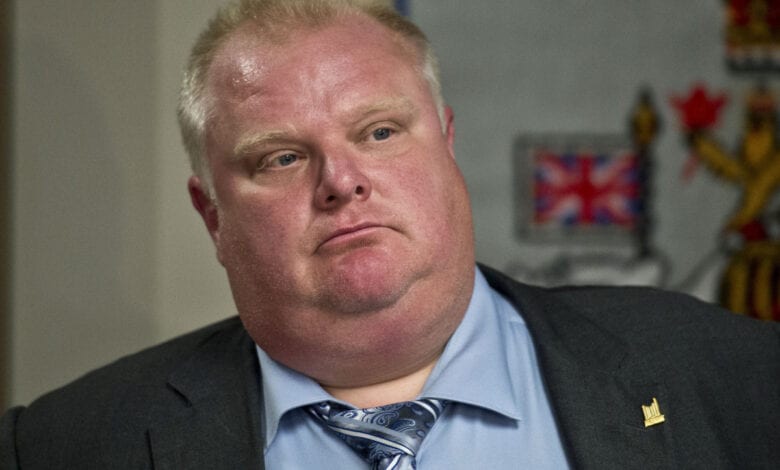 Mayor of Toronto Rob Ford has been in the news for his alleged use of cocaine and his outrageous behavior. Ford comes from a wealthy and financially successful family. His father Doug Ford Sr. founded of Deco Labels and Tags in 1962, which makes pressure-sensitive labels for plastic-wrapped grocery products at an estimated $100 million in annual sales. Ford's worth alone form his father's fortune is estimated to be $100 million since he owns the company. His father is also a politician which even further's the families influence in Toronto. With allegations of his crack and cocaine use it's now rumored that the mayor under fire has spent over $50K in drugs from himself and others.
Rob Ford grew up in Etobicoke with his three siblings and parents. The family lived in a 10,000 square foot home with 6 bedrooms and 7 bathrooms and even an indoor and outdoor swimming pool with 3 gardens. His father's wealth was fueled by his business Deco Labels. Doug Sr also had great political influence serving as a member of the Legislative Assembly of Ontario for 4 years before passing away in 2006. Following his death Rob retained ownership of the company with $100 million in assets to his name. Ford also got the rights to the house he grew up in that his father built. Rob attended Carleton University in Ottawa Ontario before dropping out. He worked several years for his father as a sales associate in the family business.
In 2000 Rob got married to his high school sweetheart Renata Brejniak and they had two children. He began his political career the same year becoming a Member of the Ontario Legislature. His father's political connections helped him get campaign donations and endorsements from other Canadian politicians. He spent 10 years on the City Council serving the district of Ebicoke where he was raised and currently lives. In 2010 his ride as Mayor of Toronto began.