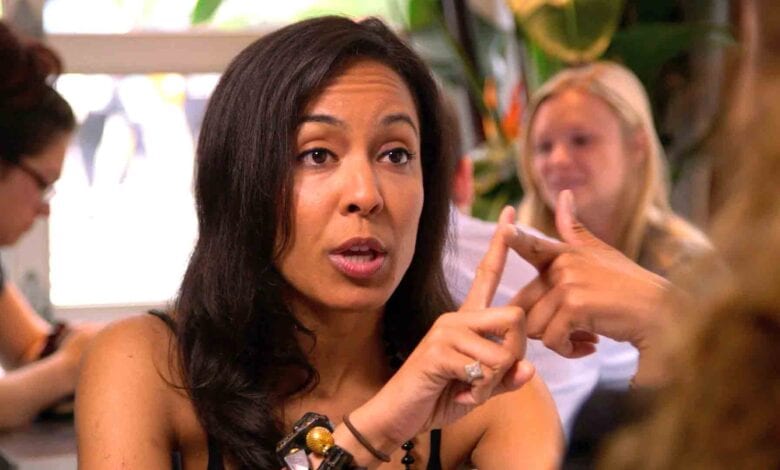 Birthday: December 11th
Birthplace: New York, New York
Ethnicity: African America & White
Education: Emerson College
Family Business: La Cité Development
Celebrity Friend: Zang Toi, Gary Dourdan
Blood Sweat and Heels the new series on bravo debuted with the network's highest ratings for a debut series. The reality show explores the ups and downs of a group of career orientated women who are juggling their love lives, careers and friendships. The show's synopsis is nothing new but it's the mix of women cast. Brie Bythewood was named after some French cheese and this one is definitely a little too dry for television. Some people are meant for television and the network chose an interesting group of women who are smart educated and keep the fighting to a minimum which is refreshing. But something about Brie is a little hmmmm… boring. She's beautiful, educated and has a great career but that can stay in the office. With the shows strong ratings I can assure you there will be a season 2 but without Brie.
Bythewood is the shy and quiet one in the bunch. Although if you Google her she's been at dozens of celebrity sponsored events and parties in and around NY her life is portrayed as dull as a dying light bulb. Her upbringing is just as narrow. She grew up in a very well off family. Her parents both work in Real Estate and own their own firm.
Brie with Gary Bourdan from CSI
Brie is looking for love and it seems she has been content with just her and her tea cup Yorkie Rocco. Something else on her twitter caught my attention was CSI actor Gary Bourdan who she photographed in several pics in just a few weeks. Now I'm not trying to start any rumors but he is Fine and Brie is an attractive educated woman so hmmmm…
Besides constant articles about her family's real estate business I was able to find out she is a Hockey fan. Her favorite team is the NY Rangers of course.
Via her twitter page we were also able to find that she went as a kitty cat for Halloween. YAWN! Literally.
The most interesting thing about her is the comment she made during the rooftop disaster that women are not able to lead as strong as men. She stated women are too emotional in their decisions and thoughts. Men are better leaders because they don't put their feelings first and are more stable. You know that caused some serious tension. Bythewood went back on her comments via twitter stating in bold a$$ letters "Let's get it straight… YES, women CAN and DO lead. Always have, always will." Okay girl.