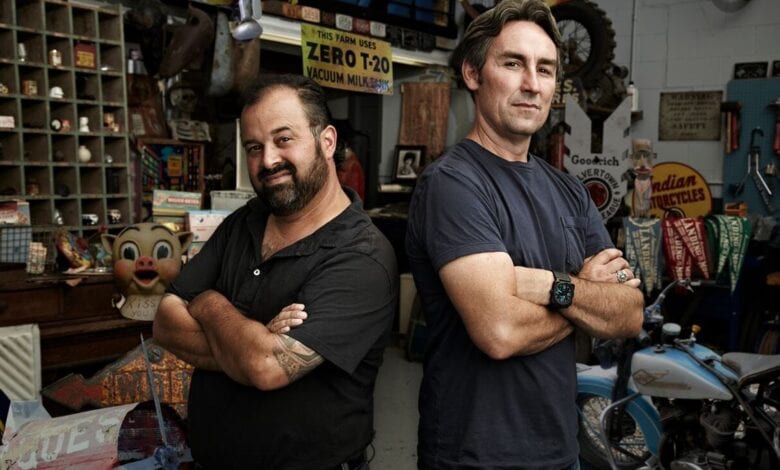 Mild Tempered and reasonable Frank Fritz has been the ying to partner Michael Wolfe's yang for over 20 years. The childhood friends have built a business around their favorite pastime foraging. Antique Archaeology is a shop in Le Claire Iowa that sells refurbished vintage and antique items Frank and Mike have found on one of their countless journeys across America. Frank's biggest business venture comes from appearing on History Channel's American Pickers. The series follows the duo and their every day job responsibilities dealing with clients and sellers. In it's fifth season the show has become one of cable's highest rated series. Frank Fritz commands $300 thousand in season 5 plus bonuses depending on the series ratings.
It all began when he was 6 years old. Frank began collecting soda cans, rocks, beer cans and old toys he had found in his neighbor's recycling bin and trash. Once he met Mike the duo was able to build an empire. They travel throughout the country to old barns, garages, junkyards and yard sales and encounter some of the most colorful people on their journey. Their client list has expanded from interior designers, collectors and photographers to celebrities, athletes, musicians and businessmen who are willing to pay them top dollar for their salvaged pieces. Frank has once come across a baseball mitt once used by Arky Vaughn they sold to an MLB general manager for $5 million.
Today the American Pickers have begun a large expansion with a social networking site called Kid Pickers for teens and kids who are also foragers. They share pictures and stories of their items they have salvaged. Frank Fritz is also earning top dollar as the main investor in Michael's light restoration business called Rustoration.