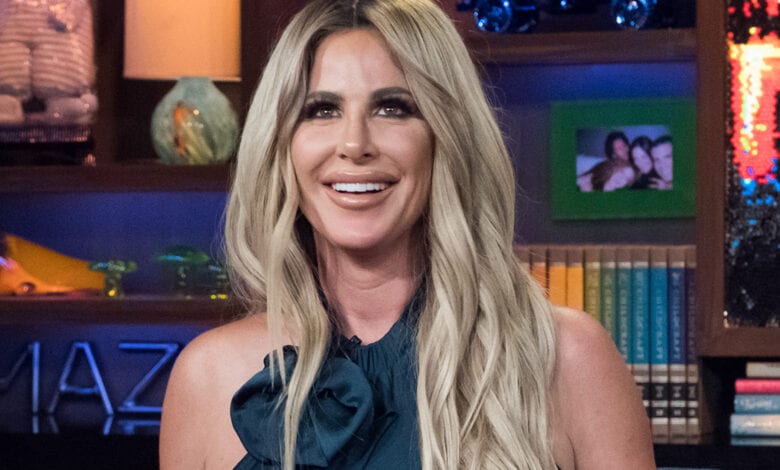 We broke the story in 2013 that Kenya Moore was earning $600K for her second season on Real Housewives of Atlanta and that NeNe was getting a whopping $1 million making the both of them the highest paid ladies on Bravo. But now with even more exciting news in 2014 Real Housewives of Atlanta producers and Andy Cohen have reached out to Kim Zolciak for her to return next season for an estimated $1 million. Zolciak would also receive a $50,000 bonus for attending the 8 hour long reunion taping in March 2015. So what did Kim say? "Hell Yes" of course, the wig wearing diva would not turn down a paycheck plus she's got so many kids running around the house Kim is ready to hire more Nannies.
Zolciak was one of the original cast members on Bravo's hit series. She stuck on Real Housewives of Atlanta since it's premiere in 2008 but abruptly left the show and got out of her contract. She claimed the series was too contrived and she didn't have a good relationship with new cast members Cynthia and Phaedra. Also her relationship with Kandi Burrus had been completely dissolved after Kandi slapped her with a lawsuit for failing to give Kandi royalties for her production of 'Tardy For The Party'. It was rumored that Kim made over $80,000 on the record. But with sales on itunes and the song being featured in several commercials Kim earned over $600,000 from the record. Kandi who rewrote and produced the track got zip. So we can see why there was bad blood. Kim was also pregnant with her fourth child and claimed her emotional state and health was dwindling during filming.
In 2014, one season after Kim left Real Housewives of Atlanta had record breaking ratings with almost 5 million viewers. The show was Sunday's highest telecast in the 18-49 demographic and became Bravo's highest rated show. So it seems the producers had extra cash to splurge to continue building on their number one series. It was also suggested that the show would let go of Cynthia Bailey. It was rumored that her story line seemed to be less relevant and audiences were bored with her. There was also talks of adding two new cast mates but Andy Cohen felt the chemistry between the current cast was good enough and a new member would ruin it.
In 2014 Kim is worth an estimated $6 million. She's still married to Atlanta Falcon's NFL player Kroy Biermann.