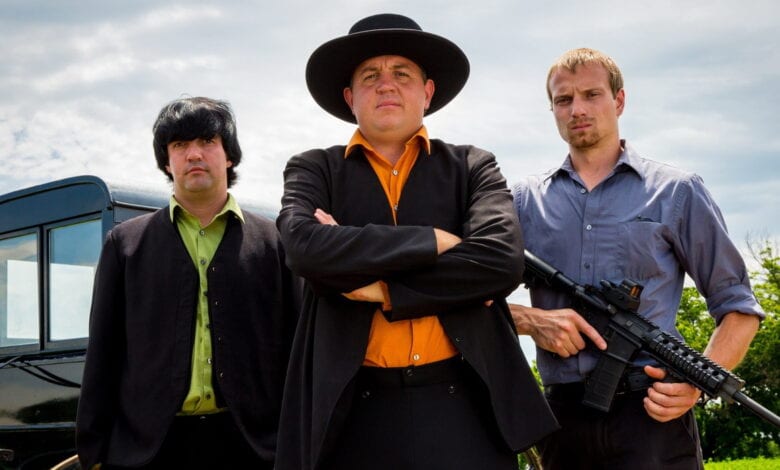 Birth name: Levi King Stoltzfus
Birthplace: Quarryville, Lancaster Co
Birthday: June 30, 1979
Spouse: Lydia Stoltzfus married 2005 – present
Occupation: Firefighter Neptune Fire Co (1999-2003)
Amish Mafia has become a breakout hit for Discovery channel. In it's second season the show has produced to specials including "Book of Merlin" and "The Devil's Cut". During it's season 2 premiere it became Cable's highest rated original program on Tuesday August 13th. The show's star Lebanon Levi head of the mafia has a slue of fans and a growing following. The show has been criticized for it's lack of reality and several media outlets have gotten word that the series is scripted but that hasn't stop it's star Lebanon Levi from raking in the bucks. He is paid $200K for season 2 and a bonus $40K for tv specials. Because of it's popularity Discovery is working on a 2 hour long special formatted like a movie following the Amish Mafia. It's rumored Lebanon has already signed on and will receive a pay of $1 million. His net worth today is $3 million.
Cast of Amish Mafia
He is also expanding his celebrity status in the series to do several business ventures. In 2013 he did a publicity tour signing autographs charging $5 per photo. Some of the proceeds were donated to Neptune Fire Company. Levi is helping Wolfgang Candy Company launch its Farmer's Fair line, a series of confections crafted in the Pennsylvania Dutch style. He is also married to a woman named Lydia. The couple have been together since he was 17 years old. He has three brothers and is the youngest. As a kid Levi lost his father. His dad worked on a farm outside of Quarryville while working in the silo, which compresses grains, he was killed. His mother uprooted the family and moved to Lancaster where she remarried to an Amish Deacon.
Lebanon Levi is the Amish insider who holds the power and serves as protector of the community for a price. He exists above the law and occupies the role of police, judge and jury. Levi's team engages in a life outside of Amish and non-Amish community codes as he quietly exerts his influence and control. Levi has a history of run ins with law enforcement but not as severe as you would think. He has multiple DUI arrests from 2000, and 2007, the earlier of which included charges associated with underage drinking because Levi was only 20 years old at the time. He was also arrested for "Disorderly Conduct Engage In Fighting" that occurred on November 8, 2009. There have been arrest records displayed on Discovery Channel's official site which has been disproved as credible.