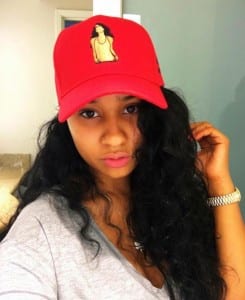 Betty Idol is NOT Waka's Side Piece But Has Other Issues with Tammy Rivera
We cited a report from the IBTIMES.com that Betty Idol was Waka's side piece. That rumor was all based off a Love and Hip Hop Atlanta trailer released in March. We can now report that is not true. But Betty does have beef with Tammy and it might involve their mutual friend D. Smith.
The transgender music producer is bff's with Betty. But to ease her into the show VH1 producers had her develop a friendship with Tammy through several lunch dates. Unfortunately her real BFF Betty is protective of Smith and has some shaky feelings about Smith's "new friend" Tammy. Apparently Idol has heard that Tammy was homophobic through remarks she made on a radio interview. In the table scene that fans have been inquiring about for a month, the truth is Betty confronted Waka's wife about the interview. She basically puts her on blast in front of D. Smith. Betty digs even deeper and tells Tammy that she's only successful because her marriage to Waka. That comment sends Rivera into a rage and thats when she throws the glass on Betty which results in her hair being pulled out. OUCH!!