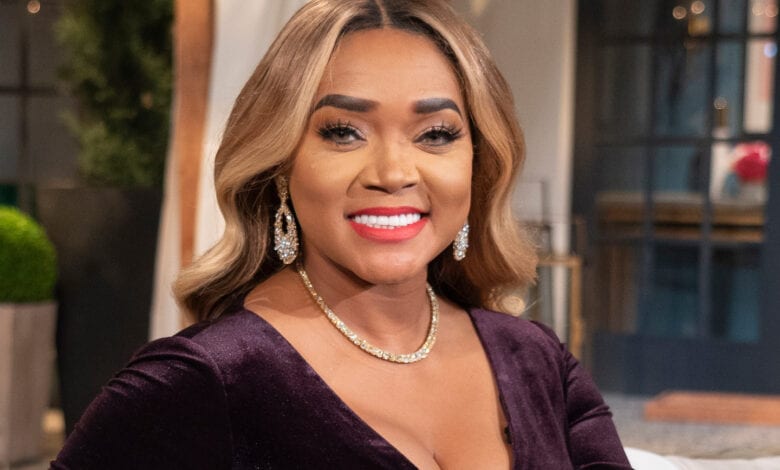 Birthday: June 12, 1976
Age: 38
Zodiac Sign: Gemini
Birthplace: Chattanooga Tennessee
Spouse: Dr. Aydin Huq who's ethnicity is Bengali
Children: Lauren Taylor and Ethan Tyler. Her children are "Blackadeshi" a term the couple coined
Net Worth: $4 million originally posted on Yodale.org and later confirmed by CelebrityNetWorth.Com
Salary: $100,000 per season of Married to Medicine
Mariah and her lion's mane
Mariah Huq is the star of Bravo's hit series Married to Medicine now in it's second season. The show took off in 2013 airing behind the successful series Real Housewives of Atlanta. Now standing on it's own Sunday nights garnering over 1.5 million viewers per episode the show continues to grow. From it's showcasing of personal issues between friends and career struggles Married to Medicine is filled with laughs and highly tweeted moments thanks to it's stars Mariah Huq and Quad who continue to deliver new sayings and words not found in Webster.
Mariah Huq is one of the producers of the series who takes credit for the ladies success claiming that she made the other stars relevant. It maybe true since each of the women were just housewives and doctors. But Mariah has taken her credit of the series to a whole new level creating new drama and rifts between the cast members. Namely her former bff Quad. The two were close friends for years and have similar backgrounds. Now their rivalry is the main cause for the show's constant ratings growth.
Mariah was born in Chattanooga Tennessee and graduated from the University of Tennessee at Chattanooga with a degree in 2003 with a Bachelors in Mass Communication. With a mouth like hers she has put the degree to work. After graduating in 2003 one of her first professional jobs was working at a local television station in Tennessee. She produced the 6 o'clock news show and later had a 4 minute spot on the evening news talking to local entrepreneurs in the city. She eventually had her own tlak show entitled "Lifestyles and Trends" on 3.  The gig inspired her to become a business owner of her own branching out.
In 2005 Mariah moved to Atlanta and completely switched career paths in medical sales where she met her best friend Quad-Webb Lunceford who also held the same job. Both ladies were from Tennessee and instantly bonded. Mariah and Quad met their current husbands on the job, who are doctors.
Aydin Huq specializes in Emergency medicine earning a salary of over $3 million a year. Mariah was encouraged by Aydin to leave medical sales and start her own business (with his money) in childrens wear and decor. Her sister Lake works for her as a designer.  The company Jewel and Jem has decorated baby rooms for dozens of celebrities in Atlanta including Real Housewives of Atlanta star Phaedra Parks.